Amfit Nutrition Pro whey protein powder chocolate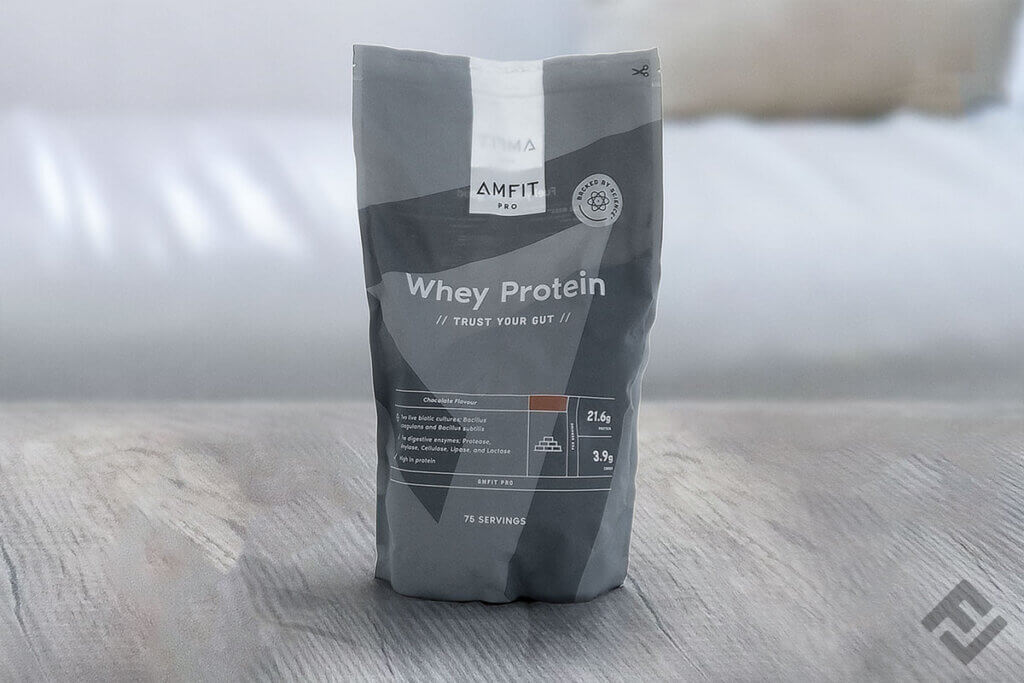 Pros
Good composition of macronutrients
Exceptional price-performance ratio
No lumps with water or milk
Full-bodied chocolate flavour
Cons
Resealable bag not intuitive
---
Rating
9 / 10
FinalCheck verdict
Most impressive is the powder's exceptional price-performance ratio. Other plus points are the high protein content and high level of solubility as well as the pleasant chocolate flavour.
Texture and taste





Ingredients and nutritional values





---
The product presented here was provided to us free of charge by Amazon. The provider had no influence on the test criteria or our rating.
General information
Protein powder is a dietary supplement that is ideal to quickly provide your body with large amounts of protein at low costs. To prepare it, simply mix it with water, milk, or a vegan substitute and shake it for a few seconds to get a nutritious shake. Chicken breast fillet, for example, is a great source of protein too, but it costs you much more and takes up a lot more time and effort to prepare. Judged by the protein per gram, whey powder is one of the most cost-effective protein sources.
Whey is a byproduct of cheese production and particularly advantageous. This is thanks to its high bioavailability, which means that it has all essential amino acids and can be completely metabolised by your body. This stimulates muscle protein synthesis, i.e. muscle development.
The 5 pound (2.27kg) protein powder comes in a resealable plastic bag. The only drawback with the packaging: the press-to-close zipper is not easy and intuitive to close. Closing proves to be awkward, as the ends have to be pressed together with a lot of effort. The powder lasts for about 75 individual servings. A scoop is included for easily measuring the right portion. The price-performance ratio can hardly be topped: the bag costs only about $30. Double the price per pound is the rule rather than the exception with competing products.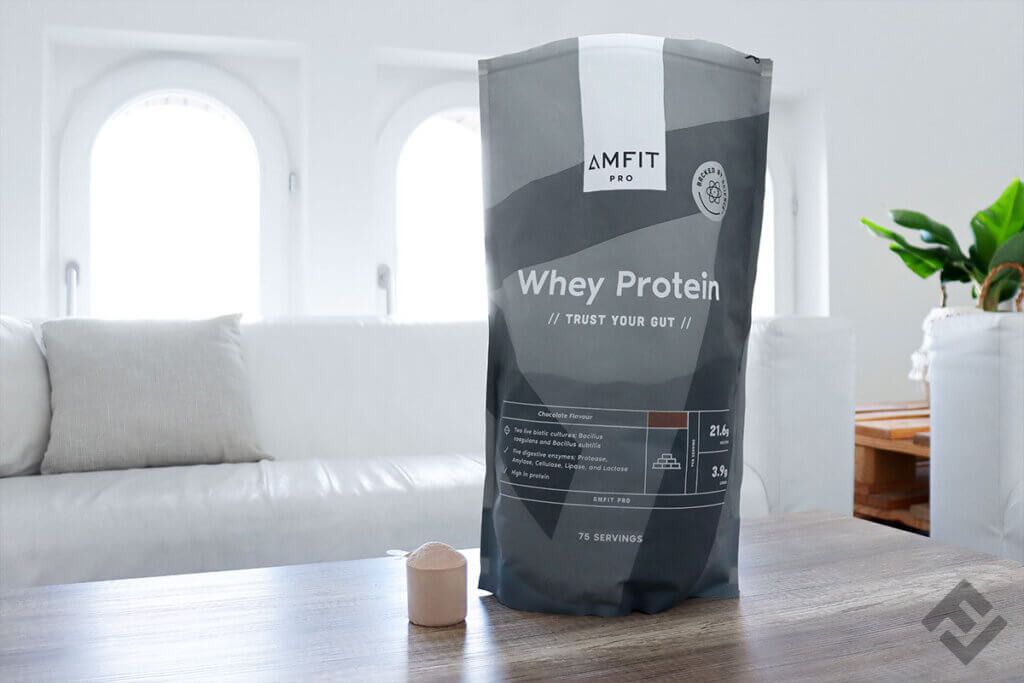 Note: Due to the processed whey protein, the product is not suitable for vegans. Other potentially allergenic substances are milk and wheat flour.
Texture and taste
The powder itself has a fine, almost dust-like texture. For a liquid meal, we mixed one portion (one scoop) into 250 ml of liquid as indicated. In our test, we first used tap water and then UHT milk with a fat content of 1.5 %. The mixtures were carefully shaken in a shaker for 10 seconds each. Particularly positive to note is that the powder was not only very easy to mix in water and milk, but both drinks were also completely free of lumps. Competing products often leave lumps that make drinking difficult and are considered yucky by some users. We were also pleasantly surprised by the taste: the shake has a full-bodied, pleasant cocoa flavour. We didn't detect any nasty artificial notes, which are not uncommon in whey products.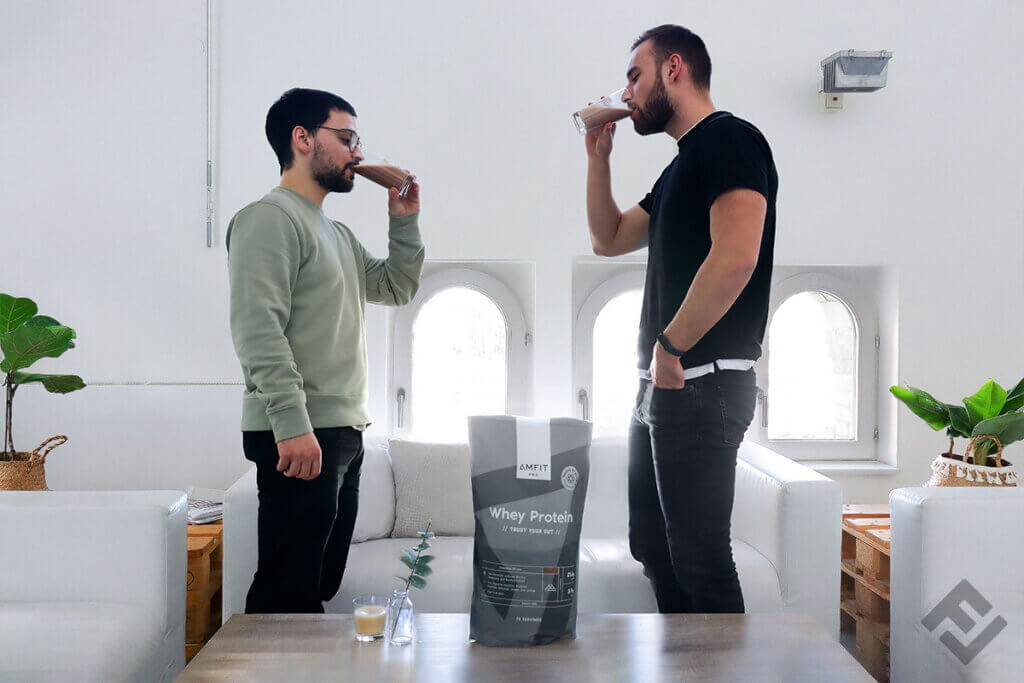 Ingredients and nutritional values
Just as with other protein products, the amount of protein that can be absorbed with one serving is the most important purchase criterion for powders. A single serving of 30 grams of powder usually contains 21 to 23 grams of protein. Amfit Nutrition Pro whey protein powder chocolate contains 21.6 grams of protein per serving.
This is what it looks like in terms of calories: 100 to 130 calories could be expected from such a product. The Amfit Pro version contains 108 calories and is thus within a good range. Athletes, but also people who follow a low carb diet (keto or paleo), pay special attention to keeping their carbohydrate intake as low as possible. Therefore, this product is well suited for them.
Nutritional information per 30 grams of powder mixed with water (milk and milk substitute correspondingly higher):
Calories: 108 kilocalories
Fat: 0.3g

of which is saturated fat: 0.2g

Carbohydrates: 3.9g

of which are sugars: 1.1g

Fiber 1.6g
Protein: 21.6g
Salt: 0.15g
The manufacturer's advertising slogan is "Trust your gut". The interaction with the contained calcium supports the normal function of digestive enzymes. In addition to whey protein, it contains two carefully selected strains of live biological cultures, namely Bacillus coagulans and Bacillus Subtilis, as well as the five digestive enzymes amylase, protease, cellulase, lipase, and lactase.
Summary
The shake left us with a very positive impression. The price-performance ratio is excellent and stands out among competing products. The water solubility without lump formation delivered in the test and the pleasant taste rounded off the overall impression. Since whey protein is also absorbed by the body faster than almost any other protein source, we can absolutely recommend this product.
---
Images 1-3: © FinalCheck