Amfit Nutrition Protein Bar Chocolate-Hazelnut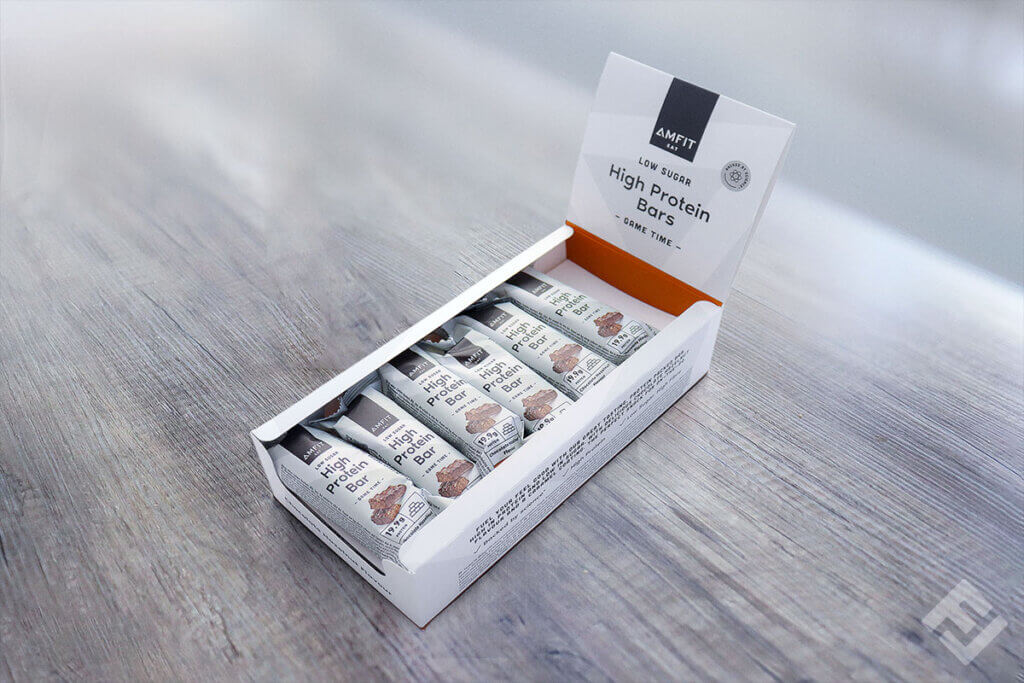 Pros
Good macros
Filling
Low sugar content
Delicious chocolate flavor
Cons
Relatively expensive
Not suitable for vegans
---
Rating
8 / 10
FinalCheck verdict
The bars are highly nutritious, and thanks to their low-sugar/high-fiber recipe are not only an ideal travel companion, but also delicious and filling.
Taste and texture





Ingredients and nutritional values





---
The product reviewed here was provided to us free of charge by Amazon. The provider had no influence on the test criteria or our rating.
General features
Protein bars are an ideal snack — whether at the office, on the way home from the gym or while hiking. However, they are not supposed to replace a full meal. They serve more as a convenient snack or a protein boost. The macronutrient composition, also known as macros, should be your main deciding factor when choosing a bar.
For athletes, a high protein content with the lowest possible calorie content is essential. While taste is also important, preferences regarding flavour and sweetness are very individual and thus make up a subjective decision criterion. Generally, protein bars range in size from 40 to 80 grams and contain an average of 10 to 20 grams of protein. The higher this value, the higher the nutritional value.
Amfit's chocolate hazelnut flavoured protein bars come in a box of 12 and are conveniently individually wrapped. When you unwrap one, you'll find a chocolate covered bar with a few pieces of hazelnut and cocoa inside. Each bar weighs 60 grams, an appealing size. You get the feeling that you have a proper snack in your hands. At roughly £25 for the pack, or about £2 per bar, these chocolate-hazelnut protein bars are rather expensive compared to competitors' products.
Note: Due to their production method, Amfit bars are not suitable for people with egg, nut or peanut allergies, nor for people suffering from celiac disease. Because of the milk protein, the bars are also not suitable for vegans.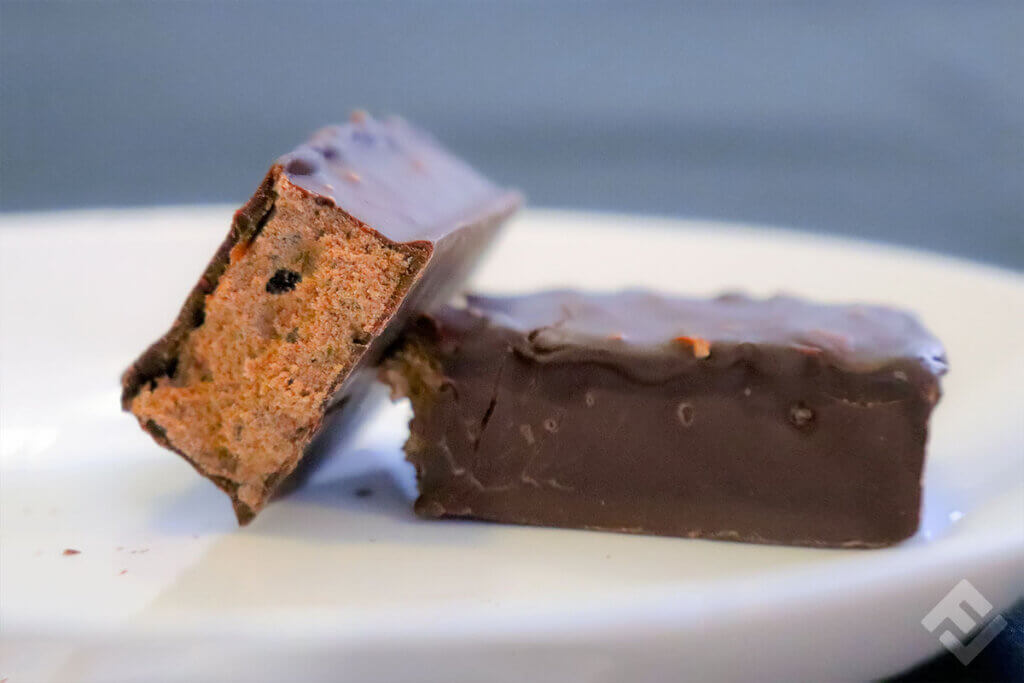 Texture and taste
The first bite reveals a dominant but pleasant chocolaty taste. The hazelnut and caramel notes are more nuanced. Unlike some competing products, the bar doesn't taste too sweet and is reminiscent of whey powder, which makes sense as it is the main ingredient. What is left, is a slightly — but not overpowering — artificial note.
The Amfit bar has a soft texture. The crunch is mostly created by the ingredients inside, though we would have liked for a bit more there. In contrast to many other protein bars that have a rather unpleasant powdery texture, the inside of these bars is more like of a doughy cookie. This makes them even more pleasant.
Ingredients and nutritional values
A look at the nutritional values reveals that within 200 calories, this milk protein-based bar contains just under 19 grams of protein. This ratio makes for a good macronutrient composition: a lot of protein with not too many calories. This is ideal for people who need to pay attention to a high protein intake in their daily diet plan. Also: with 1.1 grams per bar, these protein boosters contain particularly little sugar. Other products sometimes have many times more than this, and that's before we even consider ordinary chocolate bars. So, no unnecessary calories are hidden here. Isomalt, sucralose, and oligofructose are used as sweeteners.
Nutritional information (per 60 gram bar):
Energy: 202 calories
Fat: 6.7g
Carbohydrates: 17.8g
Fiber: 7.4g
Protein: 19.19g
Salt: 0.38g
The combination of a large bar with a lot of mass and a lot of protein (protein satiates more than carbohydrates or fat) results in quite a filling bar that prevents you from a feeling hungry during a run or weight training.
Summary
In terms of nutritional composition, the product clearly lives up to its promises: a whopping 19 grams of protein with only about 200 kilocalories is impressive. However, if you expect a typical hazelnut-chocolate bar, you might be disappointed, as the chocolate flavour is very dominant. All in all, the bar is still quite tasty. Our verdict: a very practical protein snack for in between mealtimes.
---
Images: 1-2: © FinalCheck