Amfit Nutrition Total Whey Protein Cookies and Cream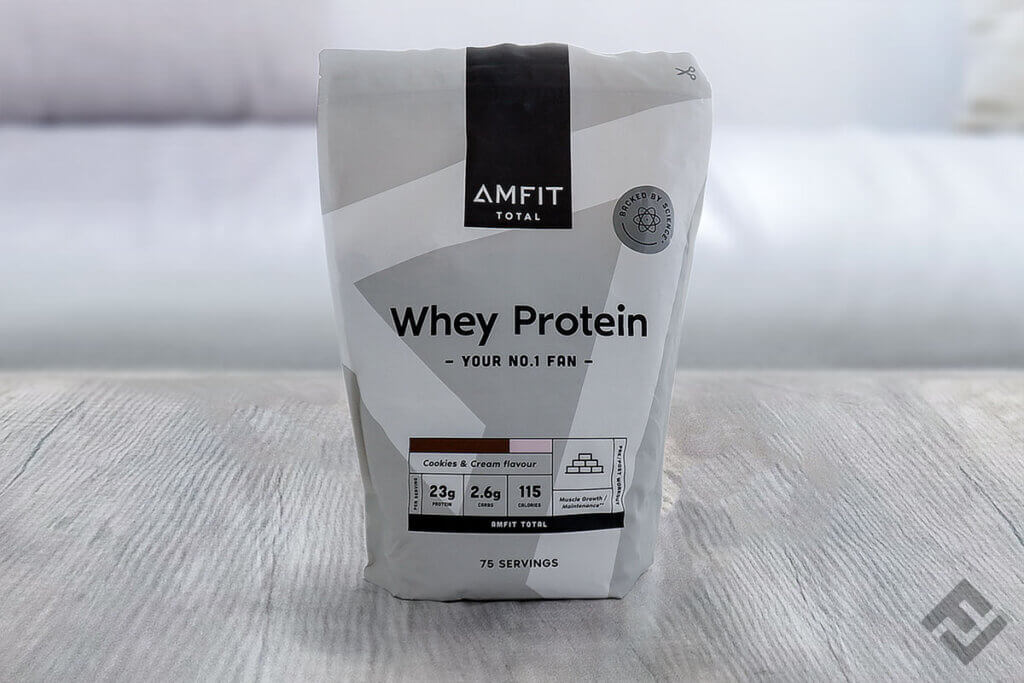 Pros
Good macros
Exceptional price-performance ratio
No lumps when mixed with water or milk
Pleasant flavour
Cons
Resealable bag not intuitive to use
---
Rating
9 / 10
FinalCheck verdict
The powder convinced us with both a fair price and a high protein content. The water solubility and pleasant taste were also added bonuses.
Texture and taste





Ingredients and nutritional values





---
The product presented here was provided to us free of charge by Amazon. The provider had no influence on the test criteria or our rating.
General information
Protein powder is a food supplement. Athletes often take it to get a quick and cost-effective portion of protein in addition to their normal diet. The powder is easily prepared as you can simply mix it with water, milk, or a plant-based milk alternative. The shake is meant to be a snack. Protein from chicken meat, for example, is high in protein too, but requires much more time and effort to prepare. In addition, protein powder is one of the cheapest sources of protein.
Whey powder is a by-product of cheese production. It has a high bioavailability, contains all the amino acids not produced by your body (i.e. essential amino acids), and can be completely metabolised in your digestive system. Combined with resistance training, it stimulates muscle protein synthesis, i.e. muscle building.
The protein powder comes in a 2.27kg plastic bag — this is enough for 75 individual servings. Thanks to the press-to-lock zipper, the bag is resealable. The mechanism is a little clumsy, so that a bit of trial and error are needed to close it. In addition, a scoop is included to facilitate the portioning of the powder. The bag costs about £37. This puts the protein powder in the medium price segment. Competing products often cost one and a half to twice as much.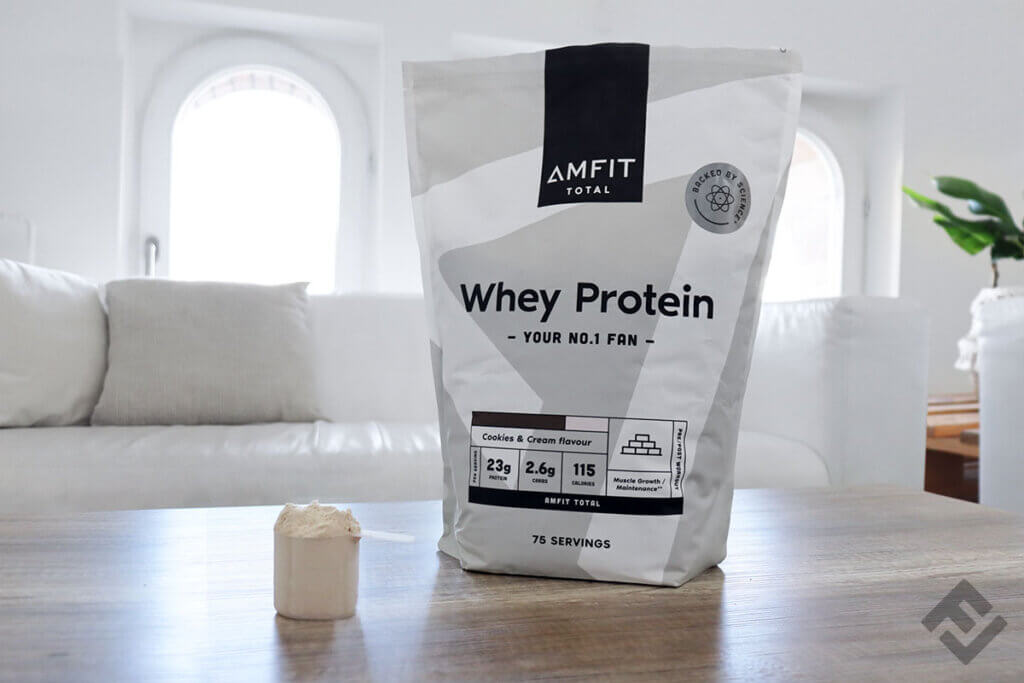 Note: Due to the processed Whey protein, the product is not suitable for vegans. Potentially allergenic substances are milk and soya lecithin. The product is, however, suitable for a vegetarian diet.
Texture and taste
The powder has the usual protein powder consistency, but was just as easy to mix as the somewhat finer Amfit Pro product. To get a drinkable meal, we mixed one scoop, i.e. a good 30 grams, with 250ml of liquid. In our test, we used tap water and UHT milk with a fat content of 1.5%. The mixtures were each carefully shaken in a shaker for ten seconds. Plus point: both shakes were lump-free, as the powder dissolved very well in both water and milk. Some products tend to form lumps that are difficult to break up even after repeated shaking. Users of competing products regularly complain that this makes it difficult to drink or that it tastes quite yucky. We didn't find these problems with the Amfit powder. The taste left a favourable impression too: We were positively surprised by the full-bodied cookies & cream flavour. We didn't notice an overwhelmingly sweet or artificial taste.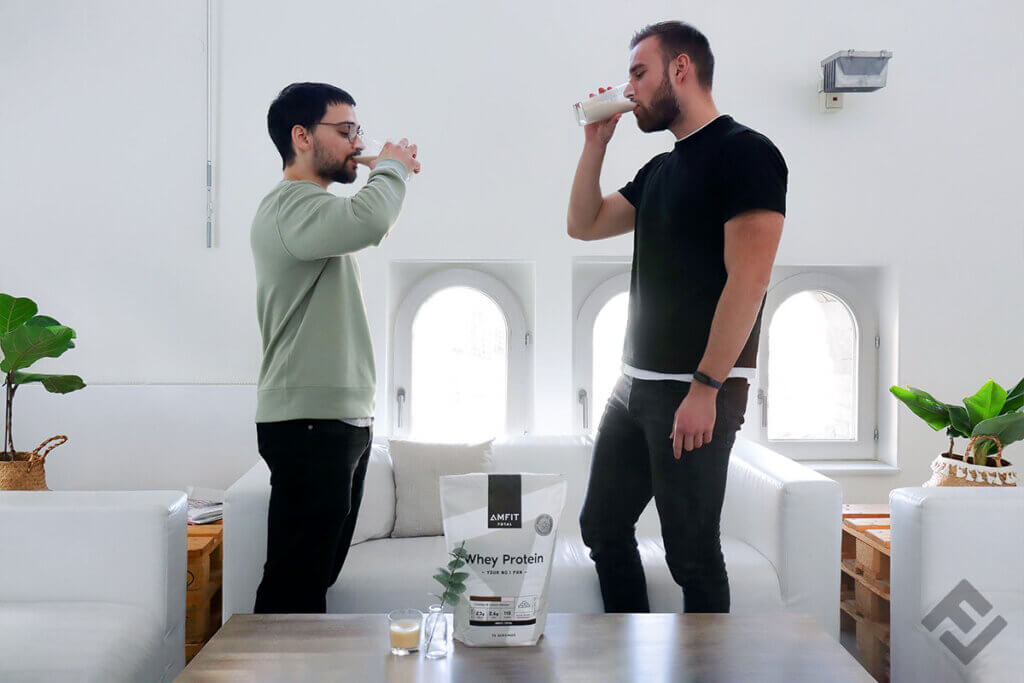 Ingredients and nutritional values
The amount of protein that can be taken in with the powder per portion is usually the central purchase criterion. A shake with 30g of powder should contain between 21 and 23g of protein on average. Good news: with 22.5g, this product is at the upper threshold and thus provides the body with a particularly high amount of protein.
In terms of calorific values, an average of 100 to 130 kilocalories can be expected in such products. Amfit Nutrition Pro doesn't provide an above-average, unnecessary amount of calories, which is often the deciding factor in purchasing, especially for athletes. People on a low carb diet (e.g. keto or paleo) also try to keep their carbohydrate intake low.
Nutritional information per 30g of powder mixed with water (milk and milk substitute correspondingly higher):
Calories: 115 kilocalories
Fat: 1.9g

of which is saturated fat: 0,7g

Carbohydrates: 2.6g

of which are sugars: 1.4g

Fibre: 1g
Protein: 22.5g
Salt: 0.34g
The product comes from the former PBN brand portfolio and is now part of the Amfit Nutrition family.
Summary
The AmfitTotal Whey protein powder with cookies & cream flavour convinced us very much overall. Even though the price-performance ratio can't quite keep up with the chocolate-flavoured Amfit Pro product we also tested, it's still quite alright. The solubility in water and milk as well as the pleasant, natural taste rounds off our positive impression. Thus, we totally recommend the powder.
---
Images 1-3: © FinalCheck