Blaupunkt HPB 200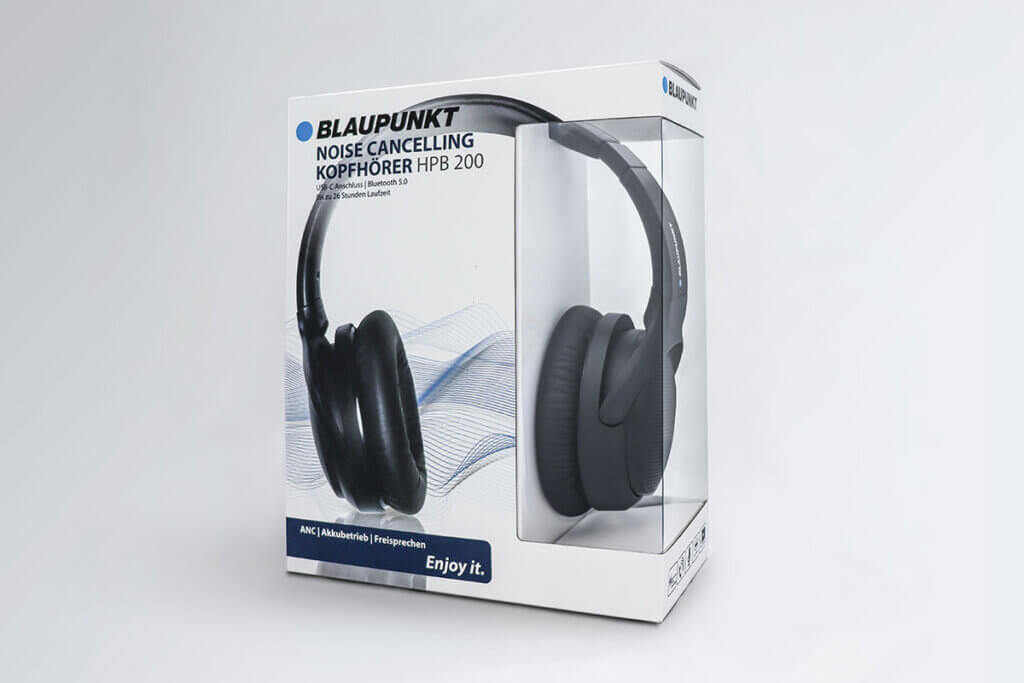 Pros
Very comfortable
Excellent sound
Good noise cancelling
Long battery life
Cons
Sound is noticeably worse when used with a cable
---
Rating
9.5
FinalCheck Verdict
These over-ear Blaupunkt headphones have great quality sound and noise-cancelling, as well as a long battery life.
Overall





Unboxing





Design





Controls






Sound





ANC





---
Overall
We live in a noisy world nowadays. The orchestra of the background hum has some dutiful players: cars with their angry drivers blowing their horns, trains as they scratch along their tracks, and, of course, planes grumbling through the sky. It's hard to escape all this noise, especially if you're taking a flight, when the drone of the plane engines can feel like thunder.
Thankfully, there is a solution to all of this. With a little help from noise-cancelling headphones, you can really get some proper peace and quiet no matter where you are. Noise cancellation in headphones happens both actively and passively. Over-ear headphones block sound out passively by covering your entire ear. Active noise cancellation, or ANC, works electronically: annoying background noises are filtered and cancelled out by the speakers and the microphones in the headphone itself.
The German audio company Blaupunkt has put its foot firmly into the ANC market with its HPB 200 over-ear headphones, an update of the older HPB 20 which didn't feature active noise-cancelling.
ANC on the HPB 200s can reduce background noise by up to 30 decibels. These headphones don't just look classy, they sound great as well with clear frequency definition and a full bass response. A 26-hour battery life means they don't need to be charged that often. The Bluetooth 5.0 connection works for a distance of up to 33 feet and can connect to devices like smartphones, laptops, or tablets. The integrated microphones mean you can also use the headphones for calls.
Delivery and first impressions
The Blaupunkt HPB 200s come in a stylish box with a few extras. These are a jack cable and a USB-C charging cable, as well as a manual and a manufacturer's warranty. Unboxing is quick and easy, and the accessories are in a separate box in the middle, so they won't fall out when you first open the box.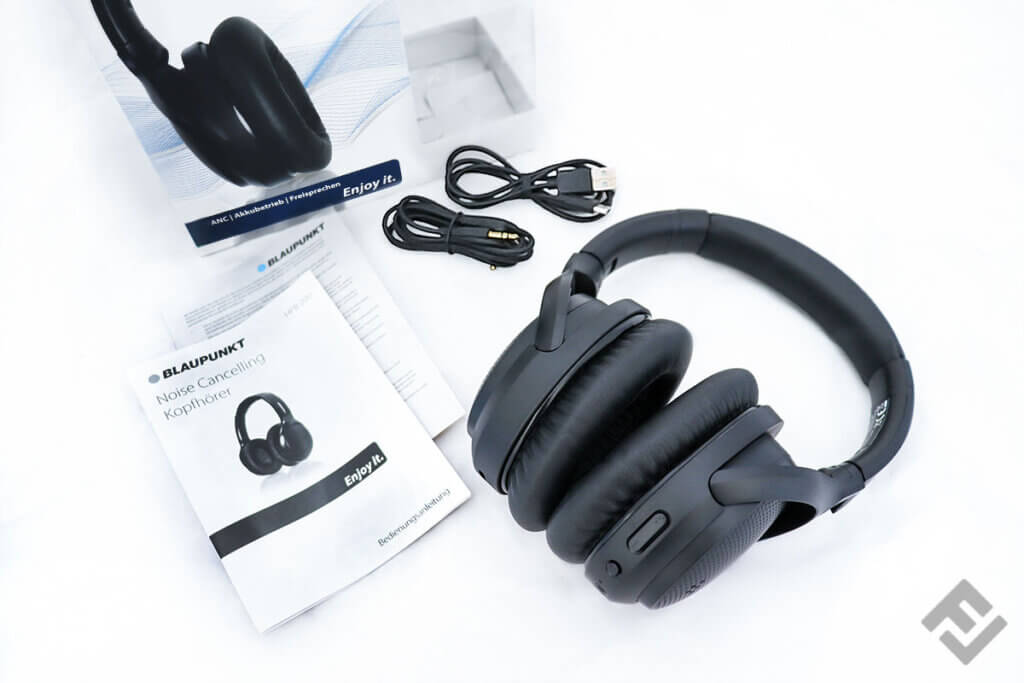 At first glance, the HPB 200s are extremely high quality. The artificial leather earpads are soft and nestle comfortably over your ears. The inside of the earcups have large right and left side markings so you won't get them mixed up. The cable input and the control buttons are on the right earcup, the charging port is on the left. The headband is adjustable and is also reinforced with a metal strip – one nice feature is that this strip has a scale on it, so you can always get your exact fit back after putting the headphones away.
Design
These 7.7oz headphones only come in black, with a blue Blaupunkt logo. The inside of the earcups continue this theme: they are blue with black accents. These headphones are light, which makes them comfortable to wear for multiple hours.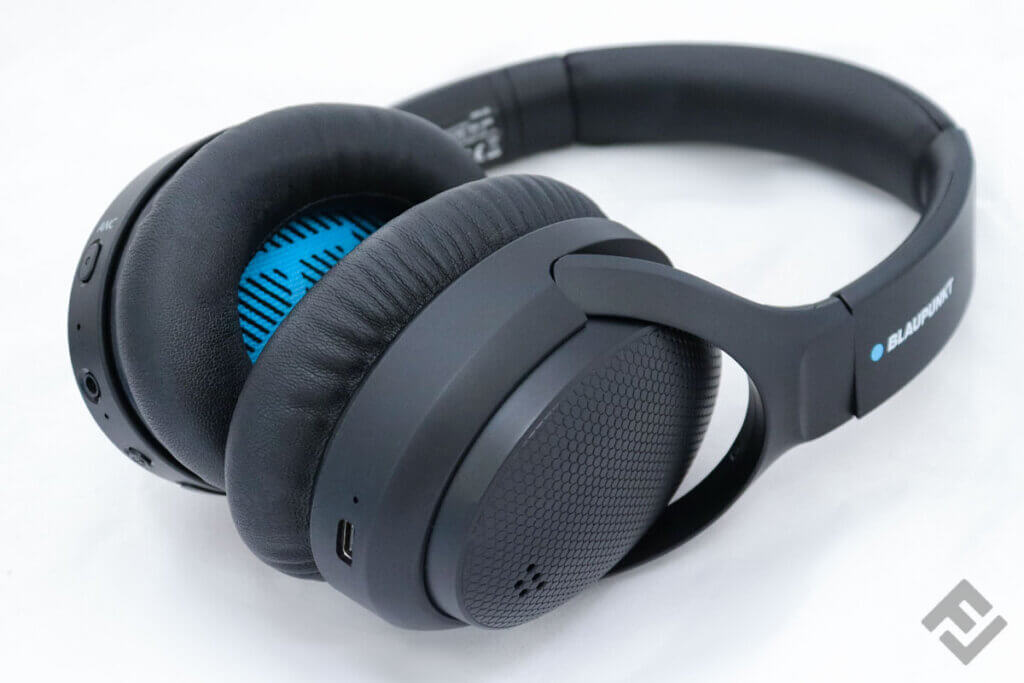 The earcups rotate 90° – this is great for when you want to just put them round your neck because they can sit flat on your chest. The earcups also fold in, making storage and transport easier.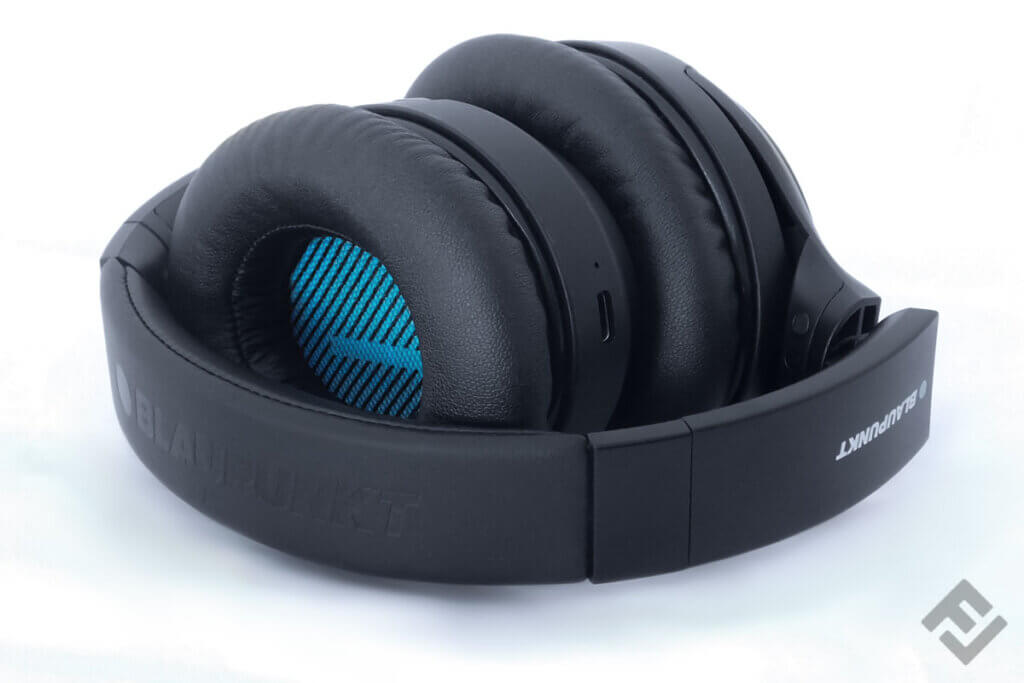 These headphones have Bluetooth 5.0 technology. While there are now newer versions of Bluetooth, 5.0 is very capable, as it has high data transmission rates and a large range. The major benefit of Bluetooth 5.0 is that it consumes less energy – the HPB 200s can last over 20 hours on a single charge. The range is around 33 feet, so you'll have no problem leaving your phone in your backpack or even moving around your home.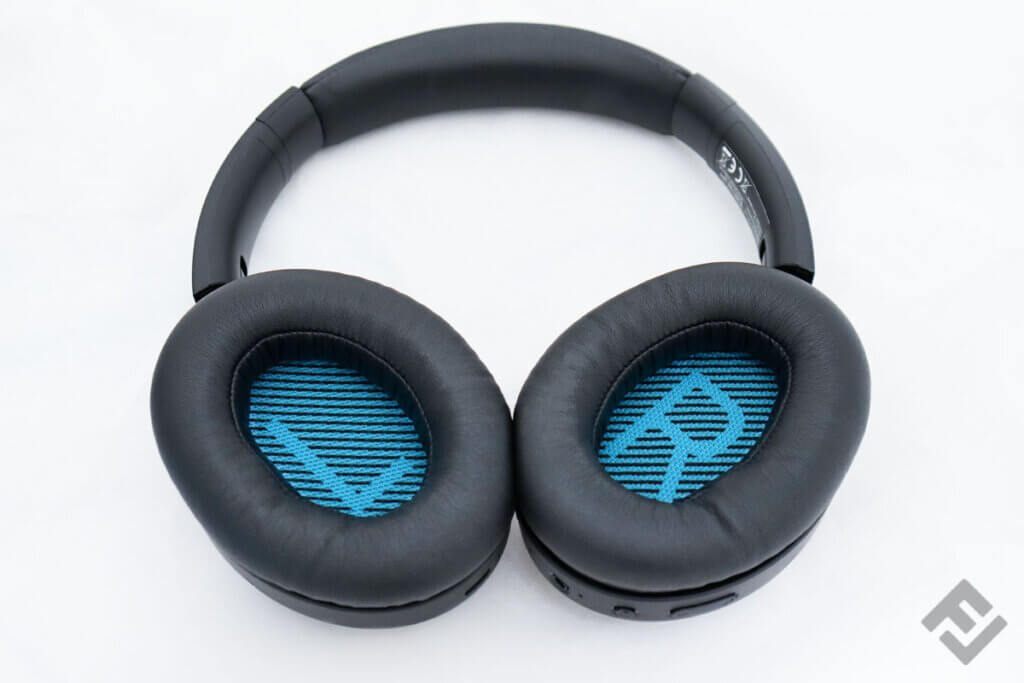 Controls
Connecting the headphones is very easy. If you've ever paired anything via Bluetooth, you won't have any problems. The user manual is very helpful if it's your first time, and it won't take more than a couple of minutes to get going. In short, you just have to hold the power button for five seconds to put it into pairing mode. A colored LED will flash to show this, and all you have to do is select the HPB 200s from the list of potential devices on your smartphone or computer. If you've already paired the headphones in the past, you won't need to do any new pairing afterwards. The headphones will automatically connect once you turn them on if they're in range and you have Bluetooth enabled on your smartphone.
There are three buttons on the right earcup. These are easy to access while you've got the headphones on. Viewed from the back of your head, the buttons are as follows: a rocker switch for controlling volume, the power button (also for pairing), and the ANC on/off button. The power button can also be used to accept or reject incoming calls – if you're on a call you can also end it by briefly tapping the power button.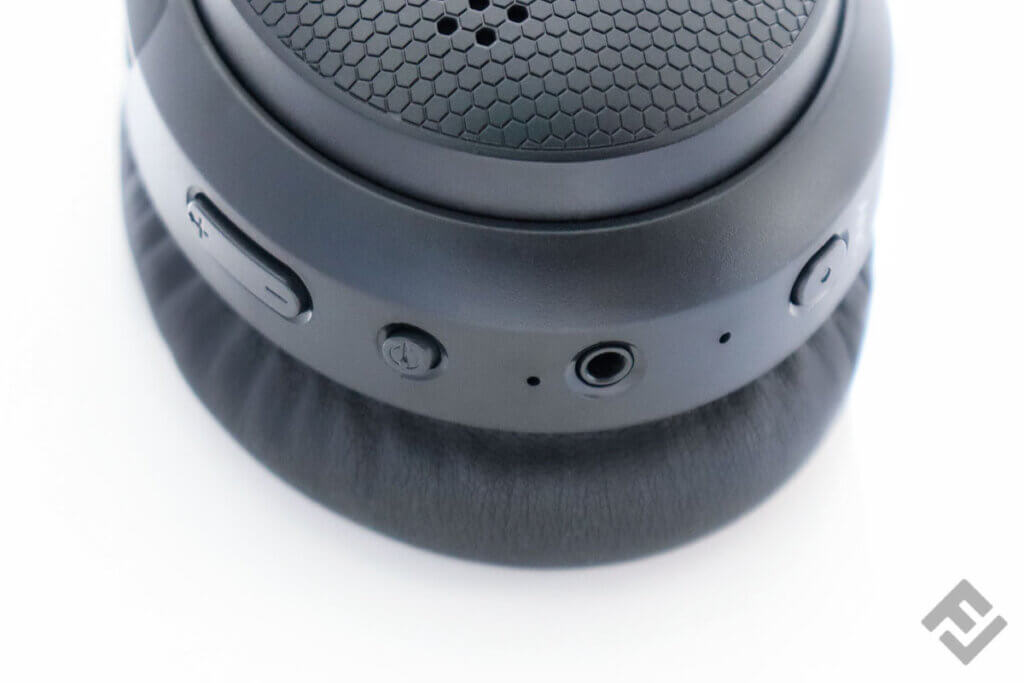 There is a 3.5 mm headphone jack in between the power and the ANC buttons. This is really useful if your headphones are out of battery, or if you want to use them with a non-Bluetooth enabled device.
As soon as you put an aux cable in, the HPB 200s will recognize it and switch the Bluetooth connection off. In the same way, as soon as you take the cable out, Bluetooth will be re-enabled. In our testing, we found that listening with a cable doesn't provide the same audio quality as with the fantastic Advanced Audio Codec (AAC) Bluetooth connection. With a cabled connection, the sound is less clear, noisier, and the bass has less oomph.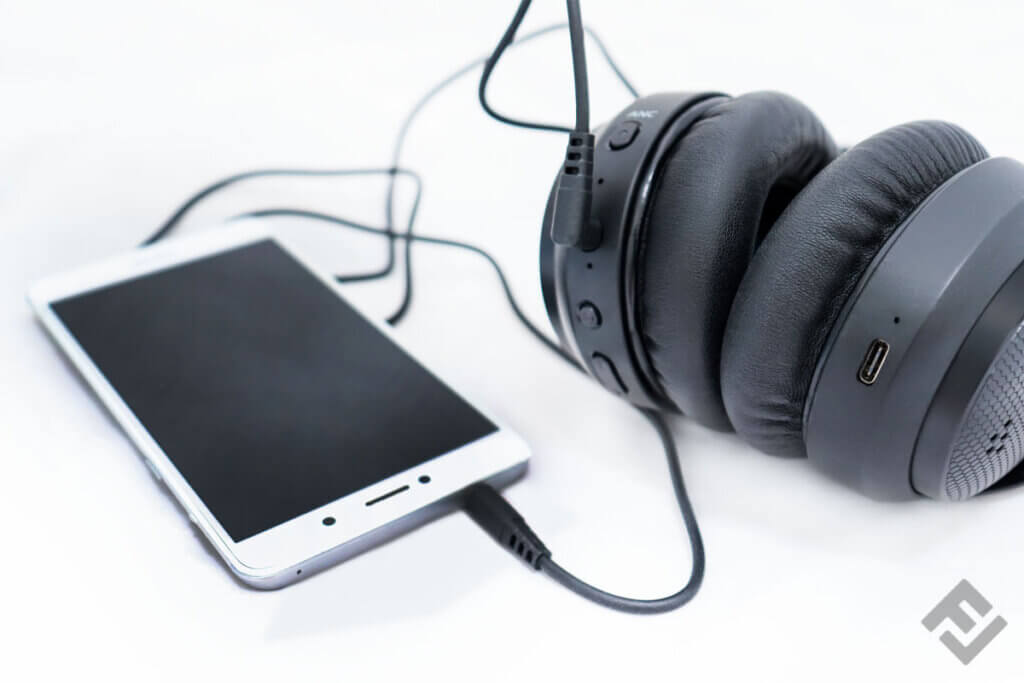 There is a USB-C port on the left earcup for charging. The headphones take about an hour to fully charge from empty. When charging, the LED is red – when full, it is green.
Extra controls
The HPB 200s have a number of extra sound effects to show what mode they are in. There are different sounds to indicate:
On and off
Pairing mode
Pairing ended
ANC on
ANC off
Each time you turn the HPB 200s back on, the ANC will be automatically inactive. Using the ANC button, you can turn it on, even if you're not listening to anything. ANC works without music, but it will of course be more effective if you are playing something too. It goes without saying that the louder the music, the less background noise you'll hear.
Sound
Over-ear headphones are at a distinct advantage compared to other headphone types since they have more space for the speaker membrane. This means that the dynamic range and the bass reproduction can be much better. In our testing, the HPB 200s performed especially well with bass-heavy electronic music. The dynamic range really brings songs to life – the HPB 200s were great in separating quieter sections of songs from louder ones.
We tested the treble by listening to some classical music. Again, the Blaupunkt headphones had no trouble reproducing individual instruments and tiny nuances in each track – nothing was flat or washed out.
Audiobooks and podcasts also sounded natural and clear. Watching videos is also possible with the HPB 200s. Thanks to Bluetooth 5.0, they don't have any latency issues, so video and audio stayed in sync when we tested them using a Samsung A3 (2017).
Noise-Cancelling
Noise-cancelling is both active and passive with the HPB 200s. Their over-ear design passively blocks out sound by completely enclosing your ears. This means even without any electronics you get a rich and full-bodied sound free of background noise.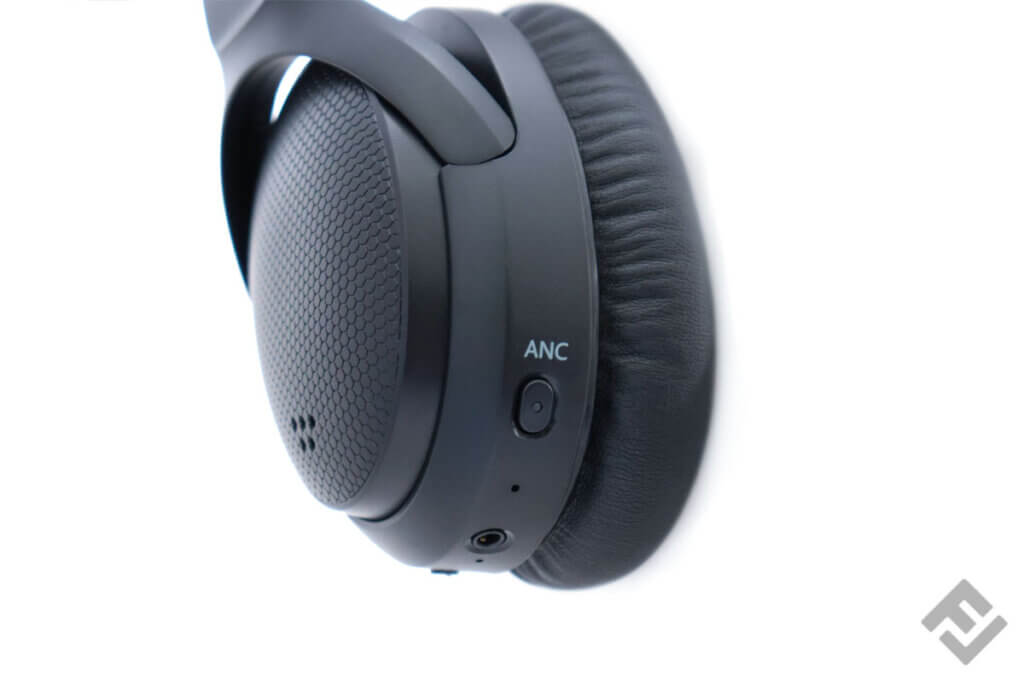 The Blaupunkt HPB 200s also have Active Noise-Cancelling or ANC technology. Background noise is picked up by the inbuilt microphones and played back with their phase inverted. This means that the sound waves coming from outside get cancelled out by their exact opposite being played simultaneously.
Turning on ANC complements the passive noise cancellation already inherent in the over-ear design. In quiet environments, the difference usually isn't huge, but as soon as you are somewhere noisy, ANC really comes into its own.
How effective is the ANC?
Blaupunkt claims to reduce noise by up to 30dB, so we put them to the test. When listening to music in the relatively low noise environment of our office, conversations were filtered out well. We played some noise music from speakers, and again, the HPB 200s did very well. The last test was on a high-speed train for two and a half hours. The monotonous hum that usually accompanies these journeys was almost completely suppressed – in fact, the train announcements were also nearly inaudible. All in all, the ANC experience on the train was very pleasant and relaxing.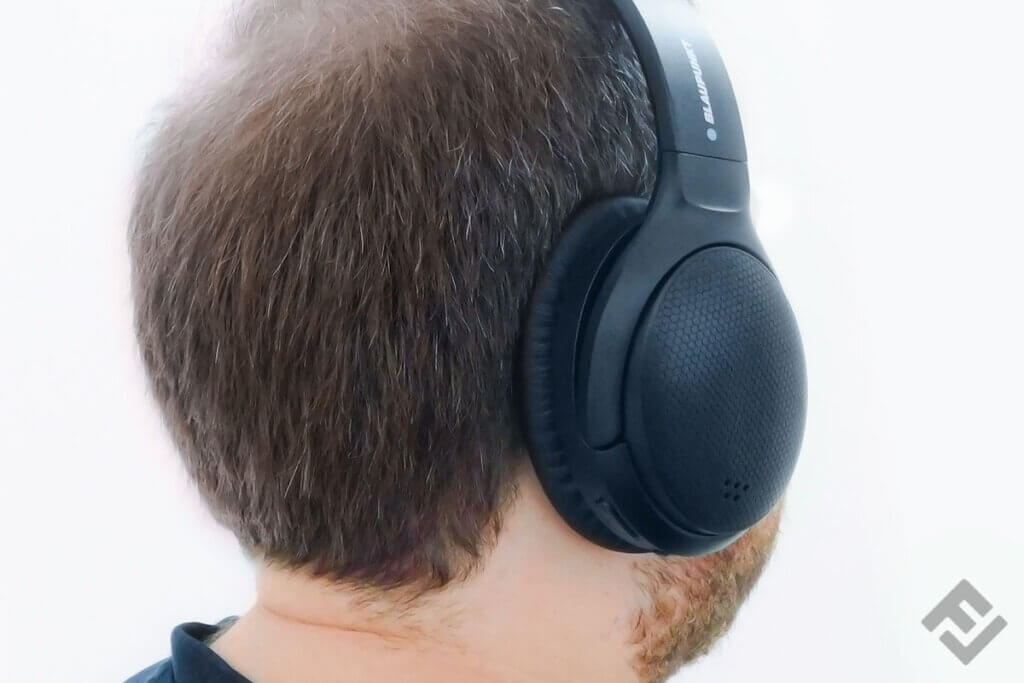 Compared to cheaper unbranded ANC headphones, the HPB 200ssoar above the competition in sound and ANC quality. Sitting at around $165, their mid-range pricing makes them a product we'd recommend based on the value you're getting for your money.
Conclusion
Blaupunkt's HPB 200 headphones are lightweight and have very comfortable artificial leather earpads which don't become uncomfortable even if you wear them for an extended session. A battery life of over 20 hours makes these long listening periods possible, and the headphones are quick to charge in between. They have fantastic sound quality and noise-cancelling features, which mean you can really relax when you have them on. Likewise, they're great for working and concentrating – the ANC means you won't get disturbed. In terms of price, they are mid-range headphones, costing around $165.
---
Title Image: © FinalCheck | Video: © Blaupunkt-Audio DE / YouTube | Image 1–9: © FinalCheck