nevernot soft tampon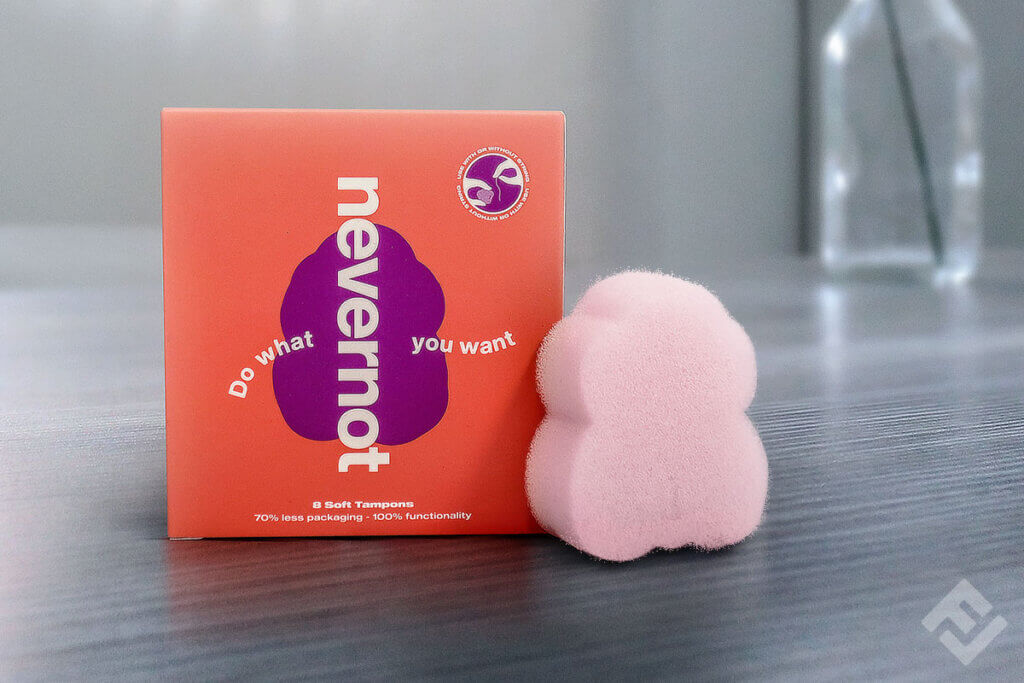 Pros
Helpful string
Compact packaging
Suitable for sex
Produced fairly
Comfortable feeling
Easy to use
Cons
High price
No different absorbencies available
---
Rating
8.9 / 10
FinalCheck verdict
The nevernot soft tampons won us over in the test with a very pleasant feeling that makes painful days more bearable. The optional string makes it easier to switch from conventional tampons, which is why the soft tampons are an ideal product for inexperienced soft tampon users. They are particularly suitable for sports, spa visits, sex, and women with chronic pain.
Product range





Review





---
Product range
"Do what you want" – this slogan laid the foundation for the young company nevernot. In 2020, it launched its first product, a soft tampon, which stands out from other soft tampons because of its cloud-like shape. The biggest wish of the two founders is that intimate wellness products have the same status and quality standard that other drug store products such as hair care products have had for a long time. To this day, nevernot is expanding its range with products "for everyone who loves to make love". Among other things, it includes massage oils, lubricants, scented and massage candles, and vibrators.
Various pack sizes and bundles
The soft tampon that started it all is now available in version 2.0. It features a smaller package size and an optional retrieval string, and is designed for single use. It is especially recommended for women with chronic pain and special occasions such as sex, spa visits, and sports. For sex, it has the advantage that it can be used with the string, so that you don't have to worry about removing it afterwards.
The soft tampon is not available in different absorbencies for varying degrees of menstrual bleeding. Instead, it's supposed to be a product for all menstruating women. However, it is available in different pack sizes with 8 or 48 units as well as various bundles. For first time users, for example, the try-out kit with a small pack of soft tampons, water-based lubricant, and intimate wipes is a good option. If you're already convinced by the soft tampons, you can save money with the bundles nevernot Tampon 2.0 – Trio (three packs of eight) and nevernot Tampon 2.0 Dispenser – Duo (two packs of 48) compared to buying them individually.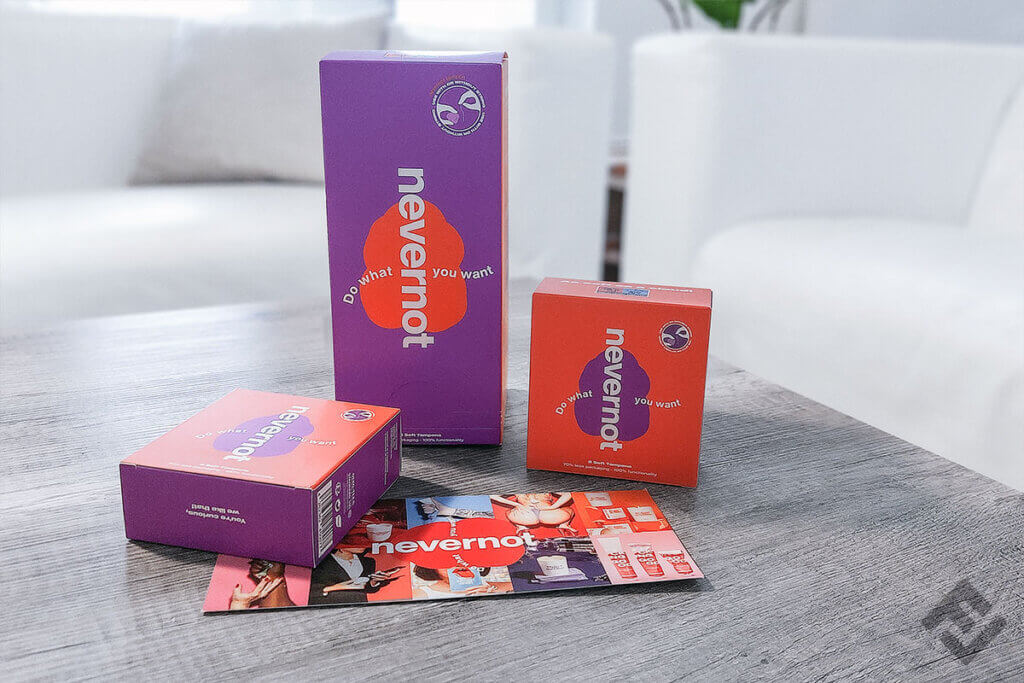 Subscriptions and shipping
The nevernot soft tampons can be ordered in the nevernot online shop just like other products of the manufacturer. When purchasing via the nevernot online shop, shipping within the EU is free of charge from an order value of €50. As payment options, nevernot offers PayPal, Klarna, and over 30 possibilities through Viva Wallet.
The delivery time is usually two to three working days. For all soft tampon packs, you can choose between a one-off purchase and a nevernot tampon subscription. The latter can simply be selected during checkout. The subscription offers a 20% discount and can be stopped or paused at any time. It can be cancelled via the account options after a minimum term of two deliveries. The products arrive every month, every second month or every third month, depending on the subscription model chosen.
Review
For our test, we received three soft tampon packs from nevernot: two with eight soft tampons and one big pack with 48 units. I have only used conventional tampons so far and have not had any experience with soft tampons. According to the manufacturer, the nevernot soft tampon is ideal for beginners — a good opportunity for me to try something new. To get an overall impression, I tested the nevernot tampons for a complete period, including bathing, going to the spa, and doing yoga.
Beautifully designed and compactly packaged
All nevernot products are designed to be aesthetic, modern, and sex-positive. Instead of being hidden in the bedside table or bathroom cabinet, they are meant to remind people of high-quality cosmetics. Beauty is, of course, always in the eye of the beholder. For me, the nevernot soft tampons achieve this goal. Both the box and the individual packaging are aimed at a young or young-at-heart audience with strong, bright colours and white block lettering and are eye-catching.
The boxes not only look high quality, but also feel like it. The smaller boxes can be opened easily without damaging the packaging. The large box, on the other hand, was a little tougher. Here I had to help myself with a paring knife to pull out the flap at the top without damaging it. However, this pack is designed as a dispenser. That's why it has an easy-to-open perforation on its underside, through which the soft tampons can be easily retracted.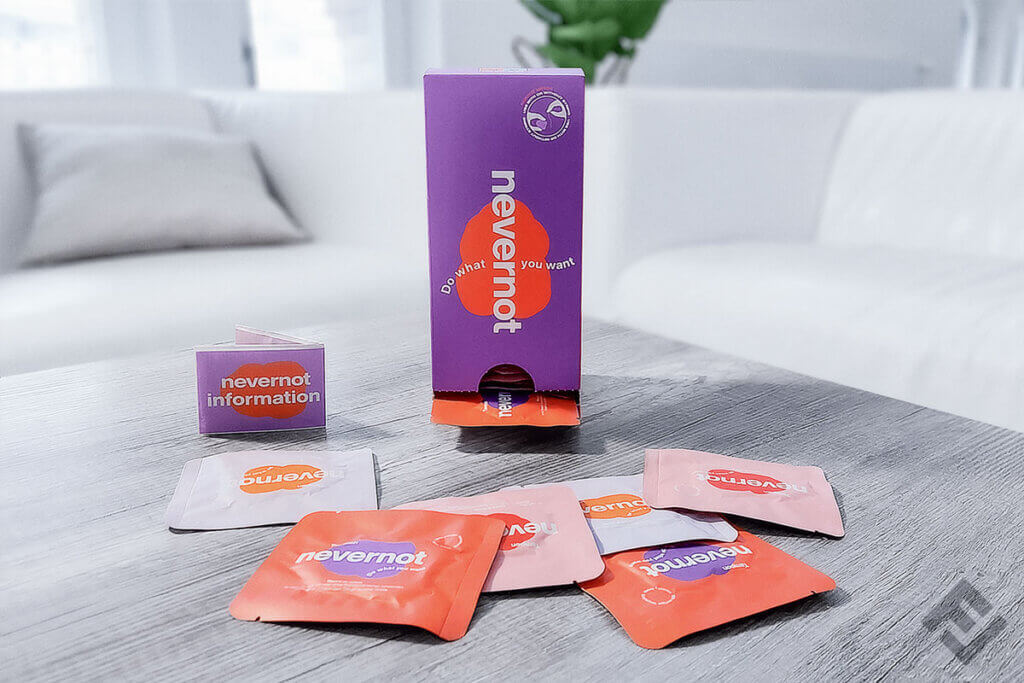 The individual wraps of the soft tampons are made of biodegradable materials. Inside, the tampons are compressed, so much that according to nevernot, it saves 70% of the packaging compared to the previous version. This makes them easy and inconspicuous to carry in your pocket or purse. At the same time, less packaging waste is produced.
Pink clouds of foam
The nevernot soft tampons are made of polyurethane foam and are free of harmful substances according to the OEKO-TEX STANDARD 100. They look like fluffy pink clouds and puff up quickly after unpacking. Unpacked, they are almost the size of a palm, which put me a little off at first. However, the foam is very soft and can be squeezed without much effort.
For insertion, there are detailed, easy-to-understand instructions in the enclosed instruction manual. According to this, you're supposed to insert the soft tampon by pressing it together with your thumb and middle finger and putting it into position with your index finger. For easier insertion, nevernot recommends moistening the soft tampon with a little water or lubricant. I didn't have to do this, though, as insertion was easy enough without it. Apart from the squeezing, it hardly differs from conventional tampons.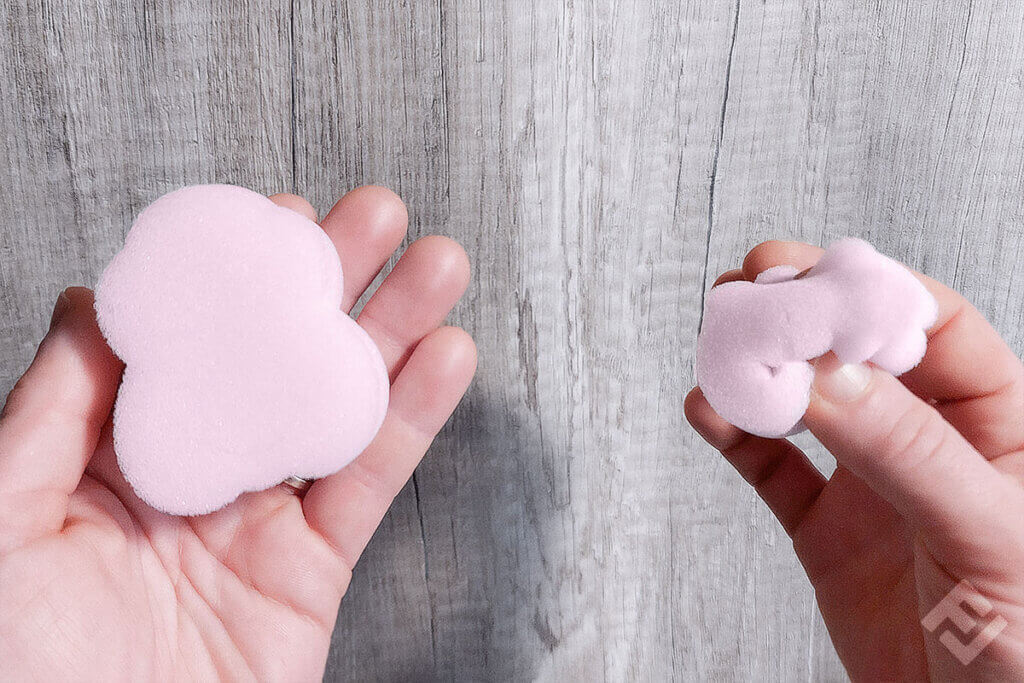 Pleasantly soft with medium absorbency
The soft material of the nevernot soft tampon is not only advantageous when inserting it, but especially when wearing it. While I often notice an uncomfortable squeeze with common tampons or have the feeling that they don't fit properly, the nevernot soft tampon was hardly ever noticeable. Especially during the first two days of my period, which are usually quite painful, I found this very pleasant. Thus, the nevernot soft tampon offers a good alternative for women suffering from chronic pain like endometriosis.
Even during sports or when it was already fully soaked, the soft tampon wasn't unpleasant to use. During dynamic yoga exercises, I never had the feeling that the tampon was shifting. Neither did it get in the way of longer stretches such as deep lunges. In the bathtub and spa, I particularly liked the stringless option. Again, I felt well protected by the soft tampon. It neither moved nor soaked up completely. Especially in the sauna, I enjoyed not having to worry about a string dangling out. During my four-hour spa visit, I got by just fine with two nevernot tampons.
The absorbency of the soft tampon is rated medium by nevernot. For heavier bleeding, the leaflet recommends changing the soft tampon every two to four hours, and for lighter periods every four to six hours. In my experience, this information is accurate. I changed my first nevernot soft tampon after about three hours. By this time it was already quite soaked, so I replaced the second tampon with a new one a little earlier. If you have heavy menstrual bleeding, you should be prepared for more frequent changes, especially during the day, and thus higher consumption. At night and towards the end of my period, the soft tampons provided reliable protection for up to eight hours.
In contrast to conventional tampons, taking out the soft tampon when the bleeding wasn't as strong did not hurt. Even if it was only slightly wet, it could be pulled out easily and without pain.
With or without string?
I first tested the nevernot soft tampon with the enclosed string, as I felt safer knowing I could easily remove it. The string is already threaded through the soft tampon, so all you have to do is tie a tight knot. If you want to use the soft tampon without the string, you can pull it out and dispose of it together with the packaging. The soft tampon could be pulled out without any problems with the string. My concerns about the very thin cotton string proved to be completely unfounded.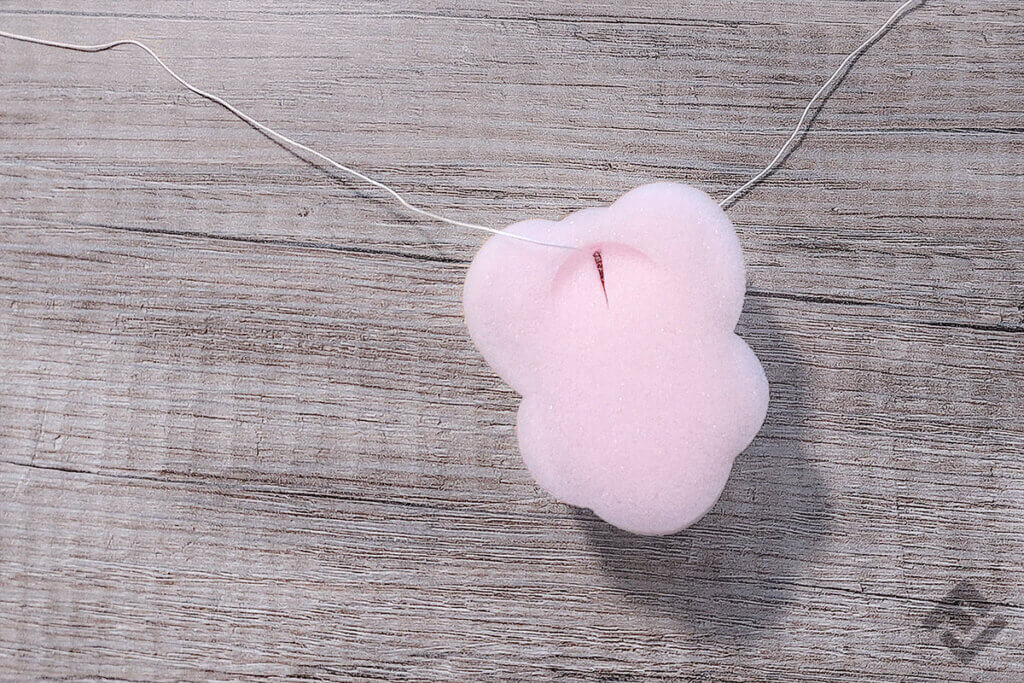 Since removing it by the string worked so well, I dared to go straight for the stringless option with the second soft tampon. I was able to remove the tampon easily even without the string. I could grip it with one or two fingers. At no point did I feel like the material could tear. However, as my period was still very heavy at the time, taking it out was quite a bloody affair, which is why I prefer to use it with the string. However, I can imagine the stringless option working well for lighter periods and visits to the swimming pool or sauna, where the string is more of a nuisance.
Quality has its price
The advantages and special features of the nevernot soft tampon — including the comfortable feel, the space-saving and attractive packaging, and the optional string — are reflected in its higher price. A small pack of eight costs €9.90, which means that a single soft tampon costs more than €1. Cheaper soft tampons are already available on the market for about half the price, and discounters even sell them for as little as €0.05 a piece.
The large nevernot pack with 48 soft tampons costs €59.50 and would be enough for about two cycles. That would bring me to around €30 per month. That's why I find the nevernot soft tampon a little expensive as a permanent solution. But it is not necessarily designed as such. Rather, it can be a kind of luxury product for special occasions or a good solution for women with chronic pain. As an occasional alternative to normal tampons — especially on very painful days and for events like spa visits — I can imagine using the nevernot soft tampon again in the future.
Conclusion
Despite initial scepticism about handling the product, the nevernot soft tampon left a very good impression in the test. Even without previous experience using soft tampons, I felt comfortable with it, to which the optional string — a unique selling point of the product — contributed. I particularly liked the soft material, which made the tampon almost imperceptible. It did not pinch when lying down or moving and made the period pain more bearable for me. Insertion and removal, both with and without the string, was easy. With the high-quality and appealing packaging that also saves space and material waste, nevernot rounds off the positive overall impression.
The only weak points I see are the high price and the medium absorbency. Especially women with heavy menstrual bleeding should expect to need to change the soft tampons frequently. So far, there are no different versions of the nevernot tampon that could be a solution for this. Due to its price, the soft tampon is particularly suitable as a supplementary product or occasional alternative to other menstrual products.
---
Image 1-5: © FinalCheck