Ski helmet with visor purchasing advice: how to choose the right product
What You Need to Know
Ski helmets with visors do not require additional ski goggles.
They are even suitable for spectacle wearers because there is enough space behind the visor.
Visors can be divided into classes that indicate how much ambient light they let through.
There are also photochromic visors whose light transmission adapts to the environment.
An optimal fit and comfort features ensure that the helmet can be worn all day long.
Always keeping an eye on the slopes
Today, it is impossible to imagine the ski slopes without ski helmets. They protect the head from serious injuries in falls and collisions. The face, on the other hand, is unprotected and exposed to the elements. To at least protect the eyes from wind and moisture, many skiers therefore wear ski goggles. Such all-round protection is now easier to achieve – thanks to ski helmets with integrated visors.
Why a visor?
Ski helmets with visors are a practical two-in-one solution: they protect the head and face from accidents as well as from the weather. Skiers do not need separate ski goggles, which they also have to take with them. In addition, there is no need to search for a goggle model that matches the helmet. Visors are particularly practical for spectacle wearers, as they can easily wear their visual aid under the lens. Even large spectacle frames fit under the visor and are protected from the sometimes harsh weather conditions.
The field of vision of visors is significantly larger than that of ski goggles: Even views out of the corner of the eye are possible. Furthermore, the handling of a visor helmet is easier, as you only have to fold down the visor or replace it. This often requires only one hand. In the alternative with ski goggles, the helmet must first be fitted and then the goggles correctly positioned.
One disadvantage of visor helmets is that they are tied to a specific brand. Only interchangeable visors of the same helmet can be used. In addition, ski helmets with visors are more expensive than models without.
Pro points
No separate ski goggles necessary
Space for visual aid
Larger field of vision
Easy handling
Drawbacks
Only interchangeable visors of the same helmet model
More expensive than ski helmets without visors
Construction and manufacture of ski helmets
Ski helmets consist of a stable outer shell and a cushioning inner shell. In addition, there is a cushioning inner lining made of synthetic fibres such as fleece or natural fibres such as merino wool and a chin strap that is also padded.
Manufacturing the shells
The shells can be manufactured in two ways. In the first variant, the in-mold process, this is done in one production step. The material of the inner shell is welded directly into the outer shell using heat and pressure. The two shells are thus inseparably joined together.
In the second process, called hardshell, the production takes place in several stages. Both the outer and inner shells are created separately from each other. In a further step, both layers are glued together at specific points. On the one hand, this method ensures that the impact energy is distributed over the entire helmet surface, and on the other hand, a helmet built in this way offers space for sophisticated ventilation systems between the layers.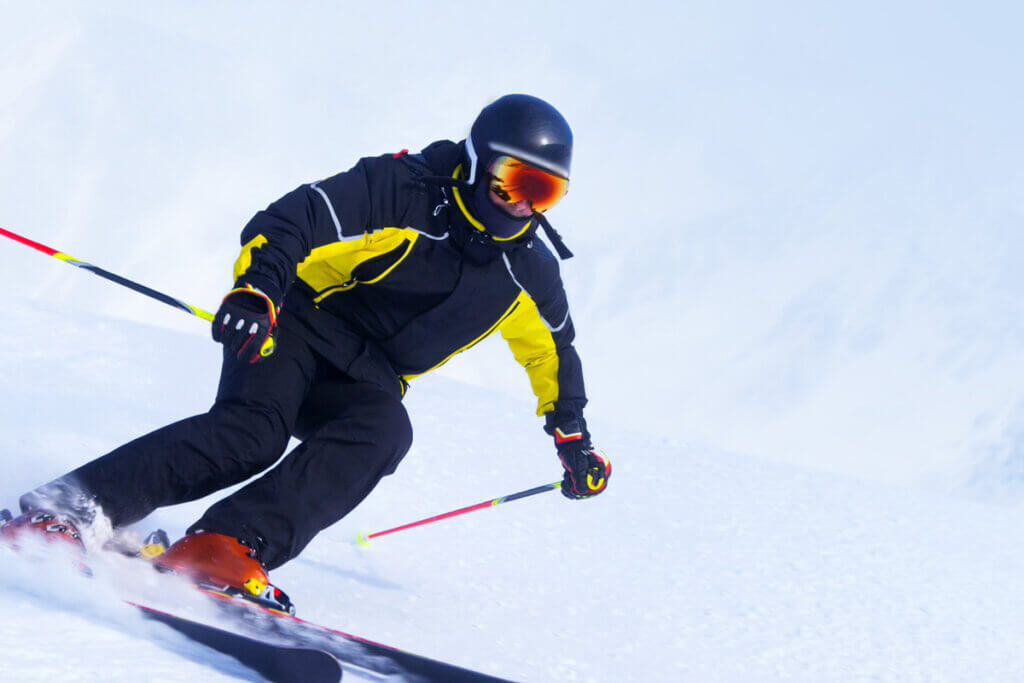 In the meantime, there are also hybrid helmets that use both processes in their production. Some helmets combine a hardshell top with an in-mold style back of the head protection. Such helmets are not only lighter than pure hardshell versions, but also leave enough space for a ventilation system.
Shell material
The outer shell of In-Mold helmets is made of the thermoplastic material polycarbonate (PC). The material is extremely light, break- and impact-resistant and resistant to scratches. The outer shell of hardshell helmets, on the other hand, is often made of ABS plastic (acrylonitrile butadiene styrene) and, in premium models, carbon or fibreglass plastic.
The materials are also impact-, break- and scratch-resistant, whereby carbon and fibreglass can withstand the most stress. Fibreglass does not break, even if the helmet is deformed by a fall, for example. Carbon is strong, stretch-resistant and yet light. If the material is reinforced with aramid fibre, the protective effect of carbon helmets increases significantly: aramid, which goes by the trade name Kevlar, is even more impact-resistant than carbon.
In both types of production, the inner shell is made of the foamed plastic EPS (short for expanded polystyrene), also known by the trade name Styrofoam. EPS not only absorbs the forces in the event of an impact, but also insulates against the cold. In addition, it does not absorb moisture.
Properties of the visor
An important property of the visor is its light transmission. The sunnier it is on the ski slope, the less light should be able to penetrate the visor. In low light conditions, such as cloudy skies, it is again important that the visor catches as much light as possible to ensure a good view of the course.
The measurement used to determine the transmittance of visors and ski goggles is the so-called VLT value ("visible light transmission"). It indicates the proportion of light that penetrates the lens as a percentage and classifies the proportions in five categories from 0 to 4. The higher the number, the less light reaches the eyes. The highest level is suitable for skiing under a bright blue sky with lots of sun. To be prepared for both cloudy and sunny weather conditions, the second level is recommended with an approximate VLT value of 20 to 40. While such a visor cannot cope with extreme conditions, it is usually sufficient for a typical day on the mountain.
| | | | |
| --- | --- | --- | --- |
| VLT value | Category | Light ratio | Wheater ratio |
| 3 to 8 Prozent | 4 | Glaring light | Sunny and cloudless |
| 9 to 18 Prozent | 3 | Plenty of light | Sunny, few clouds |
| 19 to 43 Prozent | 2 | Average light | Alternately cloudy and sunny |
| 44 to 80 Prozent | 1 | Little light | Cloudy, snowfall |
| 81 to 100 Prozent | 0 | Barely any light | Heavy snowfall |
The VLT values at a glance.
There are now also photochromic visors that adapt to light conditions and make driving easier in different weather conditions. Mostly, such visors cover three categories such as 1 to 3. Although this saves users from having to change their visors regularly, they have to pay a higher price.
Visor and helmet
In order for visors to show their strengths in comparison to ski goggles, the attachment to the helmet and the handling are particularly important. Many well-known manufacturers offer ski helmets with visors that can be replaced without tools. Push buttons or magnets are used to attach the visor. Make sure that you can open and close the visor even when wearing gloves. This solution is very practical for adapting the visor to the light conditions on the piste. In addition, the visors can often be folded up. For example, if you are standing at the beginning of the slope or riding up the mountain on the cable car, you can enjoy the view with the naked eye without taking off the entire helmet.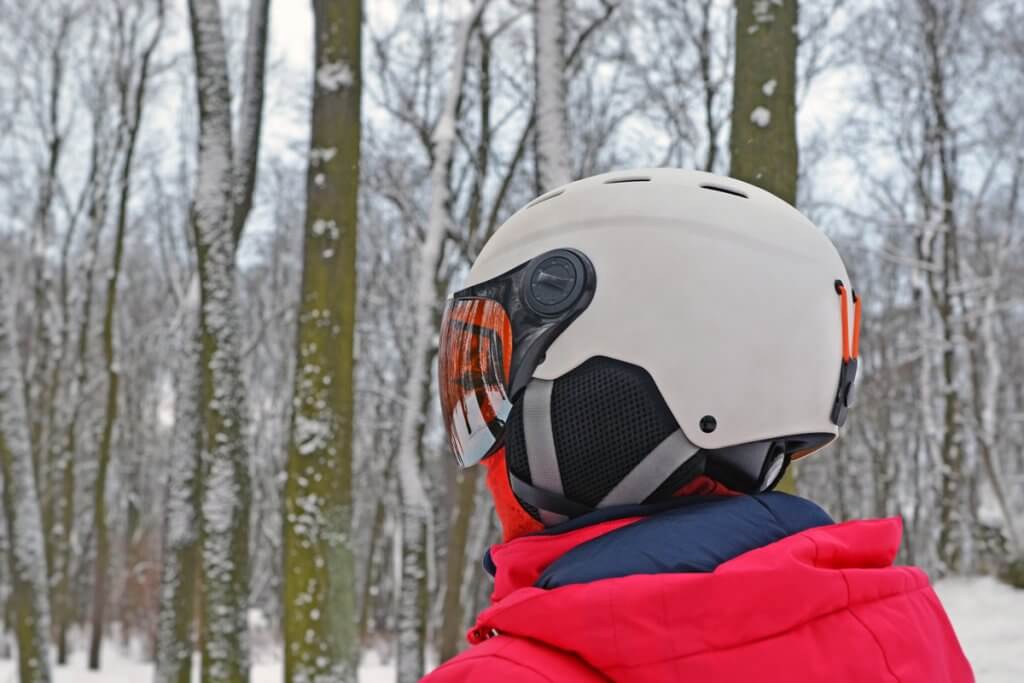 Furthermore, there are some helmets where the visor is fixed. Here it is particularly important to pay attention to the light transmission in order to have a good view in as many weather conditions as possible. Photochromic lenses that cover categories one to three are recommended.
All designs should have sealed sides, ideally with several layers of foam. These ensure that neither snow nor other moisture penetrates the sides of the visor. If you wear goggles, make sure that they fit comfortably under the visor.
Safety first
Since the purpose of ski helmets is to protect the head from injury, their effectiveness is essential. To judge how well a helmet ultimately protects, it is useful to look at the safety classes.
The safety classes and their characteristics
Ski helmets are divided into two classes, A and B. They each meet the requirements of the European test standard DIN EN 1077 A or DIN EN 1077 B.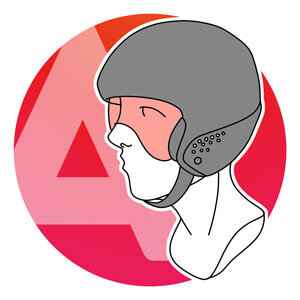 Class A ski helmets
Full-shell helmets of class A are mainly used by professional athletes due to their high protective effect. The test requirements for these helmets state that they must cushion a fall from a height of three metres and must not be penetrated by sharp objects in the event of an impact from a height of up to 75 centimetres. To ensure this, class A helmets cover temples as well as ears and have only a few ventilation openings. In return, they are heavier and not as comfortable as class B ski helmets.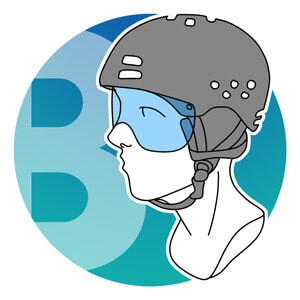 Class B ski helmets
Class B helmets, also called half-shell helmets, have many ventilation openings and do not completely cover the temples or ears. This means they don't protect as effectively as Class A helmets, but it's enough unless you ski consistently on dirt trails or have your focus on racing. The minimum protection requirements are about half of what is needed to be classified as A, yet many models are quite efficient. The fact that wearers can perceive ambient noise more clearly with a half-shell helmet is a practical side effect of this design.
More safety thanks to Mips?
Mips, short for "Multi Directional Impact System", is a safety system for helmets that was developed by five Swedish scientists in Stockholm. Its purpose is to protect the brain if the wearer's head hits the ground at an angle during a fall. Mips absorbs the rotational forces that occur during a fall.
The way it works is simple: a stretchable layer is placed between the outer and inner shell of the ski helmet. In the event of an impact, this ensures that the outer shell can move independently of the inner shell and thus soften the effect of the rotational movement on the head.
In the meantime, helmet manufacturers themselves are fine-tuning the system: Giro, for example, markets the so-called Mips -Spherical system, in which the Mips system does not function with an inner shell, but is an integral part of the helmet construction.
Other relevant criteria
Despite the highest safety level, ski helmets only protect effectively if they fit properly on the head. Comfort is also important: after all, skiers wear their helmets for several hours at a time.
Comfortable fit
While caps and hats can be positioned anywhere on the head, it is important for ski helmets to sit horizontally over the forehead and not slip. Although the width can be adjusted a few centimetres with a dial or ratchet, for example, ideally the helmet size should roughly correspond to the circumference of the head.
Measuring the circumference of your head

To measure your own head circumference, all you need is a measuring tape. Place it on your forehead, not at your hairline. About one centimetre above the eyebrows is ideal. Run the tape tightly around your head without cutting into it. The intersection of the tape measure gives the circumference. Alternatively, you can wrap a string around the head and use a folding rule or ruler to measure the length to the point of intersection.
Helmet manufacturers indicate the size either in centimetres or with the international designation S to XL. Sometimes double sizes such as S/M or L/XL are also used. Since there is no international standard, it is advisable to always study the manufacturer-specific size chart to find the centimetre equivalent of the letter sizes. If you are between two sizes, the larger size is recommended.
You will only know if the helmet actually fits when you try it on. If it stays on your head when you shake it and lean forward, even though the chin strap is open, it is the right size. When the chin strap is closed, the helmet should neither move backwards nor turn sideways.
Comfort features of ski helmets
Many ski helmets are equipped with additional features that make them more comfortable to wear. These include a removable liner that you can remove on warm days or when you sweat a lot, and a neck warmer that makes icy winter days more comfortable.
In some cases, the liner is equipped with Polygiene technology, which prevents unpleasant perspiration odours. Polygiene uses a silver salt made from recycled industrial silver, which ensures that bacteria responsible for the actual sweat smell do not multiply.
Ski helmets are usually designed with several openings on the surface to provide good ventilation under the helmet and to prevent heat build-up. Renowned manufacturers such as uvex design their own ventilation systems for their helmets. Closable vents are common to keep your head dry and warm in icy temperatures or uncomfortable weather. There is also a variant where fresh air flows through ventilation channels and warm air escapes through the outflow openings.
Other features
In addition to the necessary safety and comfort features of visor helmets, some models are equipped with additional functions. For those who like to listen to music while skiing, there are helmets with built-in speakers and Bluetooth. Other variants offer enough space to use your own headphones.
If a microphone is also integrated into the helmet or a headset is used, telephone calls are possible. You can communicate with your companion while skiing. However, it is best not to set the volume too high so that you can still perceive ambient noise and understand warning calls, for example.
In addition, an action cam can be attached to many helmets. With a camera on the helmet, you can record downhill runs, for example, and watch them afterwards. You can also share special routes or stunts with others online. In addition, they function as an accident camera: In the event of a fall or collision, the events can be easily reconstructed.